Powering up apartment dwellers across the Golden State with 120 new EV chargers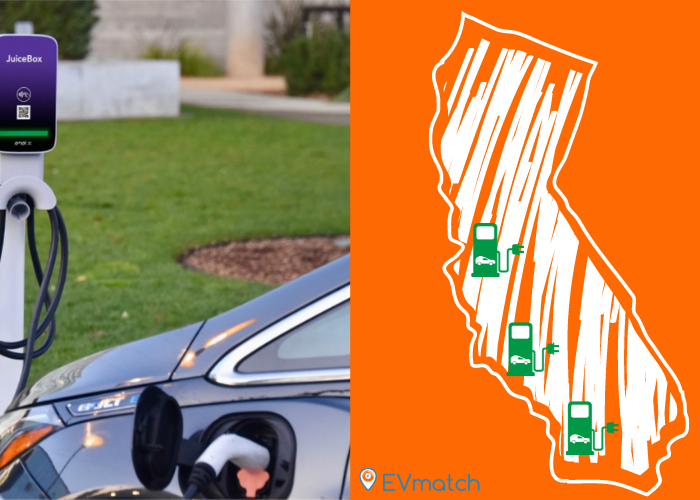 EVmatch to use California Energy Commission Grant to Deploy EV Charging Stations at Apartment Buildings and Multi-Unit Dwellings Across California
We at EVmatch know that in order to make an EV lifestyle possible for more people, we have to create convenient, practical, affordable ways for people – regardless of where they live or work – to fit EV charging into their daily lives. And we are excited to tell you how we will play a role in this evolution right here in our home state of California!
The CEC Grant
This past April, EVmatch beat out some stiff competition and received a grant from the California Energy Commission (CEC) and project partners totaling over $800,000. And just today, the grant award was unanimously approved at the CEC business meeting.
The BESTFIT Innovative Charging Solutions grant, part of the Clean Transportation Program, funds technologies like ours that demonstrate transformative energy solutions and work to accelerate the successful deployment of EV charging across California. EVmatch will use the funding to install 120 publicly available Level 2 EV charging stations – currently the most affordable charging option available – with EVmatch's unique reservation-based sharing software at apartment buildings throughout Santa Clara, Los Angeles, and San Diego counties.
The Game Plan and Timeline
Over the next 27 months, our team will oversee the installation of Enel X Level 2 chargers at multi-unit dwellings across the state, all of which will operate with our unique EVmatch software for at least the next 5 years. Each selected apartment project will feature 4-6 of these chargers, which will be available for both residents of the dwellings and members of the public. Industry leaders ABM and Suacci Solar will be providing critical support in the installation process of these chargers.
To help us spread the word about these newly available stations, we plan to partner with trusted local entities including Silicon Valley Clean Energy (also a project funder), San Diego Gas and Electric, Southern California Edison, the city of Coronado, and the Southern California Public Power Authority.
Sweetening the Deal for Apartment Owners
In the past, we've found that apartment and business owners are often hesitant to install EV chargers on their properties because of the initial high costs associated with installations, and may also be wary of tech and hardware issues that may arise with the chargers. Well, we have an app – and a plan – for that. We want to make it easy and attractive for our apartment owners to become charging hosts, so as part of this project, the BESTFIT grant will cover installation costs (up to $5,000 per port), chargers, hardware, and mounting stands, EVmatch software and WiFi routers. In addition, EVmatch will be covering all electrical permitting fees.
Our Why: EV Accessibility for All
It is our hope that with this ambitious project, we are able to reach more of the state's hardest-to-reach customers with increased access to EV charging, and we'll be carefully tracking the use of these new chargers along the way to make sure that's the case. We want to demonstrate how EVmatch's unique system and public sharing capabilities can be an effective, low-cost solution for apartment dwellers and the general public alike to build trust with state and local entities and expand upon these efforts.
Once again, we would like to thank the CEC for this award. As we implement this project in the coming months, dear readers, we will be taking you along for the (clean energy) ride, sharing our experiences, learnings and favorite customer stories on the way.
If you own, live in, or know of a multi-family property in Santa Clara, Los Angeles, or San Diego counties that would benefit from onsite EV chargers and wants them for free, get in touch with us right here.
Copyright © 2023 EVmatch. All rights reserved