Future-proof your commercial property with EV charging
Why Host EVmatch Charging Stations on Your Commercial Property?
Commercial hosts install EV chargers and list them on the EVmatch platform to earn revenue and attract business. It's as simple as installing an eligible smart charger on your property, creating a listing on the EVmatch app, and monitoring your transactions. Use our 'Groups' feature to offer free (or reduced cost) charging to employees or guests while collecting payments from the general public.


The latest projection from BloombergNEF says that half of all cars sold in the US will be battery-electric, plug-in hybrid, or fuel cell-powered by the end of this decade.

With more charging demand, savvy property owners will capitalize by installing chargers and collecting revenue from their use.

Government bodies and electric utility companies are incentivizing properties of all types to install EV chargers to meet demand.
EVmatch Helps You Maximize Investments in EV Charging Equipment
EVmatch's EV charging software solution with integrated hardware allows you to take advantage of the EV revolution at the lowest cost, whether you need EV chargers at apartments or condos, your workplace, or your business.

Integrate with low-cost hardware


Reach thousands of EV drivers by renting your charger on the EVmatch network

EV drivers can reserve and pay through the EVmatch mobile app

Built-in security: lock, open, and track charger usage

JuiceNet wireless control by Enel X Way, featuring real-time monitoring and display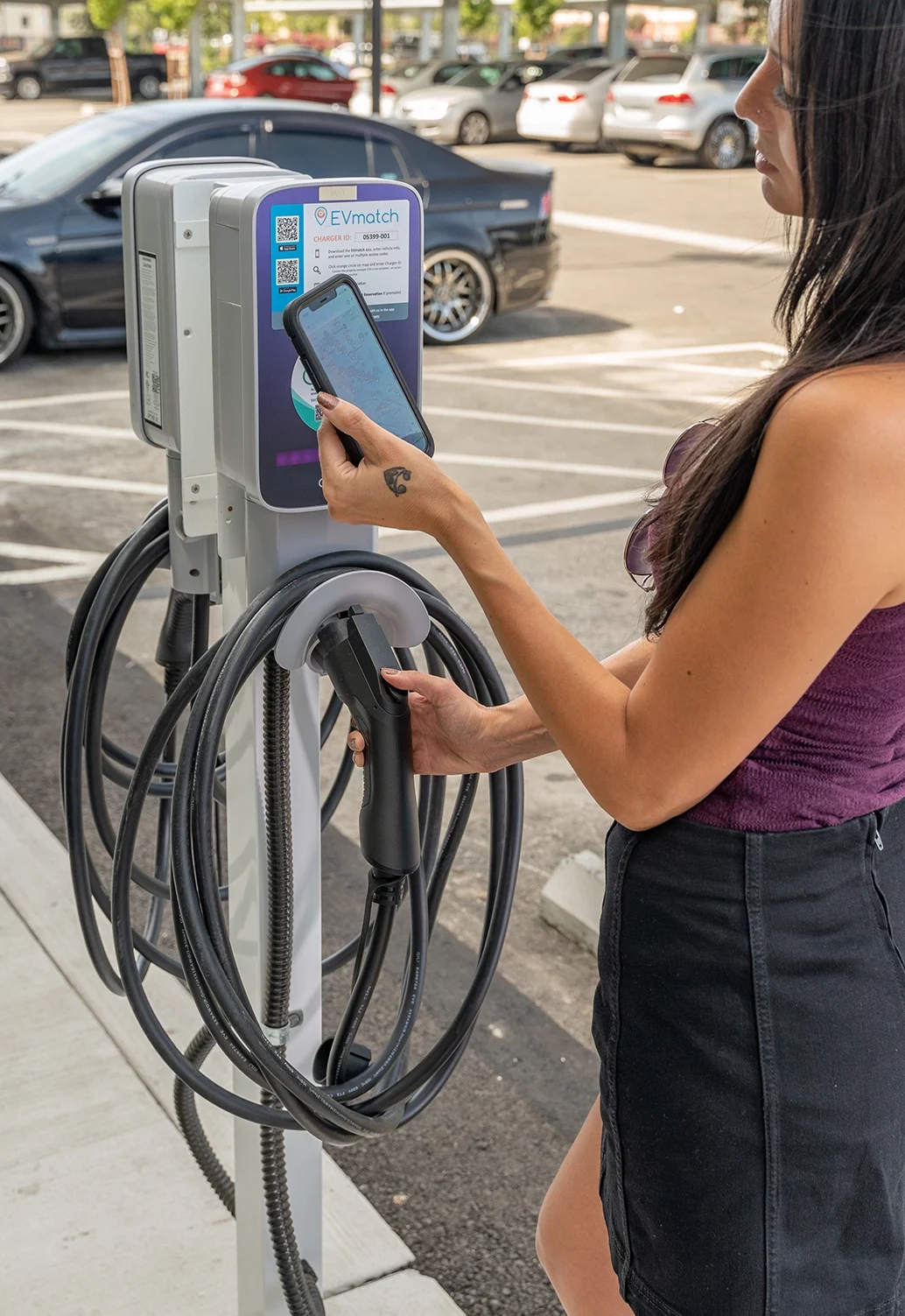 EVmatch enables flexible pricing options for Commercial Hosts.

Choose From Hourly or Energy-Based
You can set your charging price based on an hourly flat rate or the amount of electricity consumed by each EV driver.

You can also choose when to activate fees, meaning you can offer free charging to employees and/or customers, and then charge the public for use of your charger.
How To Be A Commercial Host
Buy a compatible smart charger

Enel X Way JuiceBox 32, 40, or 48.

Wallbox Pulsar Plus 40 or 48.
Install your smart chargers
Install your charger in a dedicated EV parking spot within WiFi range at your building. Ask us about cellular networking if you don't have WiFi or it doesn't extend far enough. Need an installer?
Create a commercial host listing
After installing your chargers, the EVmatch support team will guide you through the hosting configuration process, including how to set up a listing. You will be able to customize availability, pricing, and group settings to fit your property's needs.
Rent your charger
View bookings and earnings as they come in through the secure EVmatch web and mobile app. Download from the App Store or Google Play and manage your smart charger from anywhere! Our secure payment processing protects you and your customers.
Earn money and support EVs
We make earning money from your EV charger simple and customizable. Your earnings are direct deposited into your account on a monthly basis. With EVmatch, you'll add a new revenue stream to your business and help more people drive zero emissions vehicles!
Do you have any questions about EVmatch?
Visit the "Commercial, Apartment, & Condo Hosts" section of our FAQ page