Future-proof your apartment or condo with EV charging
EVmatch offers the most dynamic and affordable EV charging solution for Multi-Family apartments
If you are looking for EV charging for apartments or condos, EVmatch works for you to keep prices low and the installation process streamlined by supplying the most durable charging stations, coordinating with electricians and contractors, and providing ongoing direct customer and technical support before, during, and after station installation.


The reservation system makes EV charging for apartment and condo residents simple with advanced booking and greater convenience.

Customize access, availability, and pricing for charging at apartments and condos.


Choose from multiple EV charging station hardware options to fit your aesthetic preference.

Don't get filtered out of available property search results. Attract and retain high-value residents.

Increase net operating income and build long-term value.

Improve your sustainability profile with a highly visible "green" amenity.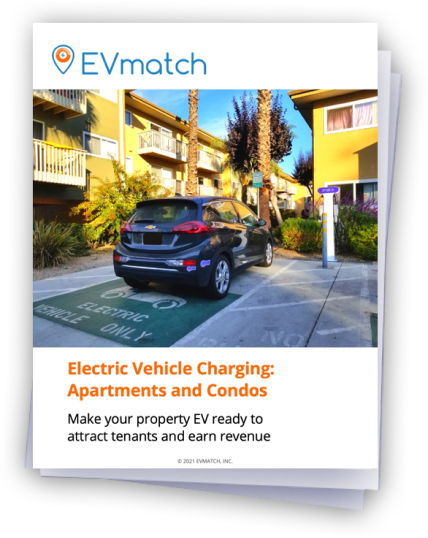 Electrical Vehicle Charging:
Apartments and Condos Guide
Make your property EV ready to attract tenants and earn revenue
According to AAA, 40 million Americans - led by the largest generation, millennials - are considering buying an electric vehicle (EV) for their next car. Adding EV charging at apartments or condos is a must-have for two reasons:

More than 80% of EV charging happens at home.

As more Americans buy EVs, they will filter their housing search by properties that have EV chargers installed on-site.
Our white paper describes the best way to add EV charging and capitalize on this new revenue opportunity.
Utilize Grant Funding To Finance EV Charging Stations
Up to $46,000 per multi-family property
Thanks to an $800,000 grant from the California Energy Commission (CEC), EVmatch can provide up to 6 free charging stations, 5 years of free software, and up to $5,000 per port towards installation services to eligible multi-family properties in Los Angeles, San Diego, and Santa Clara Counties.
Hardware Options for EV Charging
at Apartments and Condos
Visit the "Commercial, Apartment, & Condo Hosts" section of our FAQ page, or Contact Us.