How To Plan and Install Your Home EV Charging Station
There are several considerations to make when planning and installing your home EV charging station. Follow the guidance in this post to ensure your station is installed and up and running in the most cost-effective and timely manner.
So you've decided to buy an electric vehicle (EV). That is great news! You're on your way to reducing emissions and saving money on gas. The next step is to get a home charger installed. Just like the EV buying process, there are many considerations that will affect the overall project cost, timeline, operability, and rebate eligibility.
Specifically, there are five main topics we will discuss:
EV Charger Selection
Planning the Installation
Rebate Compliance
Selecting a Contractor
Operation
Let's get started!
EV Charger Selection
There are many, many EV chargers available on the market today. Along with browsing at any larger retailer like Costco, Amazon, or Home Depot, you can find a wide selection of home EV chargers online. Each retailer has different price points, features, warranty periods, and craftsmanship. So which factors matter most when you're making a decision on the home charging station that best suits your needs?
Power Output
Home EV chargers are rated by the maximum electrical current output. The unit for electrical current is amperage (A). Typically, when it comes to Level 2 EV chargers, which are most common and practical when it comes to home charging, you can find a range between 16A to 48A.
With a 16A charger, you can expect about 13 miles of range per hour of charge. On the other hand, with a 48A charger, you can expect about 40 miles of range per hour of charge. Of course, mileage will vary due to the efficiency of the electric vehicle that you've plugged into the charger. For instance, a Chevy Bolt is much more efficient than a Tesla Model X.
| Level 2 EV Charger Current Rating | Estimated Miles of Range per Hour of Charging |
| --- | --- |
| 16A | 13 miles |
| 24A | 20 miles |
| 32A | 27 miles |
| 40A | 34 miles |
| 48A | 40 miles |
Smart Capability
Like cell phones 10 years ago, there were two main categories–smart and not-smart. In the EV world, we also refer to this as managed, and non-managed. A smart, or managed, EV charger is connected to the internet via Wi-Fi, ethernet, or even cellular. With this connection, it is able to perform many functions a non-smart, or non-managed EV charger cannot do. This is a great option for tech-savvy homeowners or vacation home rental owners who want to do more with their chargers.
Here is a list of a few smart charger features:
Smartphone notifications
Reservation systems to book charging sessions in advance
Start and stop control via smartphone app
Data and usage reports
Automated demand response
Access control
Load management
Payment processing
And more!
Cable Length
Another point to consider when choosing an EV charger is the cable length. Where you plan to install your EV charger and where you plan on parking your EV (also discussed in the next section), will determine how long of a cable you will need. EV chargers come in varying cable lengths. Some are as short as 16 feet while others are as long as 25 feet.
If you have choice, longer cables offer more practicality for little additional cost. For instance, if you end up with a larger EV in the future, such as a truck or SUV, you'll be glad you chose a longer cable option.
The charging stations found on our online store all come with 25 foot cables.
EVmatch Recommendation
At EVmatch, we recommend either the Enel X Way Juicebox Pro or Wallbox Pulsar Plus home EV charging stations. We've worked with these two electric vehicle supply equipment (EVSE) manufacturers for years and believe that their affordability and reliability set their hardware apart from other charging stations on the market.
Ranging from around $630-$1,400, they offer a selection of chargers that accommodate an array of home EV charging needs and budgets. This is especially the case for vacation home rental owners that wish to offer EV charging as an amenity to their customers.
Both Enel X Way and Wallbox EV chargers also are able to utilize the EVmatch network for any of your smart charging needs. In fact, order through our website to receive a discount on your purchase.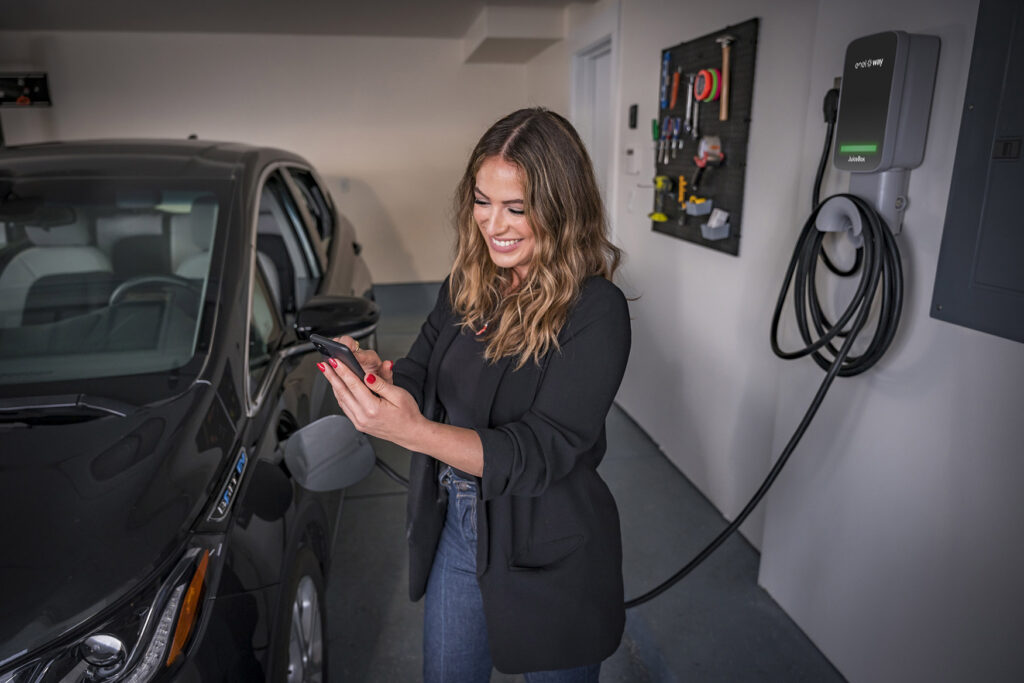 Planning the Installation
Once you have the EV charger selected, it's time to start planning the installation. During this step, you'll need to identify the best location for the charger, whether you'll need an electrical panel upgrade, and how to get a permit.
An electrical contractor can help you figure these things out. The more you're able to articulate your vision to the contractor, the more likely they'll be able to recommend the right solution rather than the easiest one. For instance, they'll need to know whether or not you plan to share your charger with the public, or with guests to make proper recommendations on power output, location, etc.
Charger Location
As previously discussed, locating the EV charger as close as possible to the parked EV is critical to ensure there is enough cable to reach the vehicle. In hot and cold weather climates in which vehicles are often garaged, it may make sense to garage the chargers as well.
Of course, the EV charger will need to be interconnected to an electrical panel, which may or may not be close to where the EV is parked. In most cases when the nearest electrical panel is far away from the identified install location, the project cost will increase–especially if the wiring has to penetrate multiple walls or ceilings.
Electrical Panel Upgrade
Another thing to consider is whether or not you'll need an electrical panel upgrade. If you have never opened an electrical panel before, then it is best to skip this step and leave it to the contractor. If you have some experience with electrical work, then it may be worthwhile to inspect your panel to see what available capacity you have. While each project is going to be different, it usually bodes well if you have all of the following:
Electrical panel installation within the last 15 years
Breaker space for a two-pole breaker
Electrical panel rating of 125A or more
No regular occurrences of breakers tripping
No fuse boxes
No knob and tube wiring
If you find any of the aforementioned untrue, you will likely need an upgrade, which will increase the project cost by a few thousand dollars. It's highly recommended that you work with a licensed electrician to conduct a load calculation to assess your panel.
Often times, there are local or federal incentive programs and rebates to help cover these costs
Pulling a Permit
The process for pulling a permit for an EV charger installation at a residential property is fairly straightforward. Most city or county building departments will want to see a set of plans showing the installation location, a panel schedule demonstrating sufficient electrical capacity, and a product data sheet for the charger.
All of this will be accompanied with a permit application with basic information about the property owner and project. If you're unsure about this process, you can speak with the building department staff or ask the licensed electrician to pull the permit for you. In any case, the permit will typically cost a few hundred dollars. The exact amount will vary with each jurisdiction.
Selecting a Contractor
Now it is time to select a contractor to perform the installation. While there are a lot of DIY videos out on the internet, it is best to leave this type of project to the professionals for several reasons. Mainly, an EV charger can draw a significant amount of electricity for several hours of the day. In fact, it very well may be the largest electrical load in your house. With that amount of power, it is critical everything is done correctly, otherwise, serious problems can occur. There are a few considerations to make when selecting a contractor that is best for the job so let's dive in.
Licensed and Insured
First things first–the contractor should be licensed and insured. In many states it is against the law to perform electrical work without a proper license and insurance. These precautions protect both the electrician and the property owner. You should never work with a contractor that is not properly licensed or that does not possess professional liability insurance.
EVITP Certification
It may be a good idea to select a contractor that has their Electric Vehicle Infrastructure Training Program (EVITP) certification. The training focuses specifically on the installation of EV chargers for electrical contractors. In fact, EVITP is becoming a standard requirement for many rebate programs to ensure proper installation. It is important to check if the rebate program you are applying to requires this certification. Even if not, it is an additional safeguard to ensure the contractor has experience with installing EV chargers. You can find nearby contractors with their EVITP certification on the EVITP website.
Three Bid Rule
Like any other project, it is recommended to get at least three bids for the home EV charger installation job to get the best possible price. With just one bid, you may not be getting the best possible deal as contractor's pricing can vary. With a minimum of three bids, you can weed out the high bids and select one that is more affordable.
Rebate Compliance
If you plan on applying and receive a rebate for your home EV charger installation project, then it is very important to read the program manual to ensure full compliance. Many of these programs require applicants to jump through certain hoops throughout the project. This can include, but are not limited to, the following:
Annual data reports
Contractor EVITP certification
Contractor prevailing wage
EnergyStar EV charger
Select list of pre-approved EV chargers
Availability to the public
Smart EV charger
Automated Demand Response registration
And more!
These requirements can be triggered during or after the installation. Failure to comply with these program requirements may result in forfeiture of the rebate so it is highly recommended to read the program manual several times to ensure proper compliance. If you have any questions you can always contract the program staff to receive clarification.
Operation
You are nearly ready to start charging your EV! Before you do so, here are a few topics to review to ensure you have the best possible experience with your EV charger. Specifically, there are a few extra steps needed for those who want to offer EV charging as an amenity to their vacation home rental.
Access Control
For those who wish to provide limited access to their EV charger, such as at a vacation rental or in an area where the EV charger is accessible to the public, you will need to set up the proper restrictions with the EV charger's networking system. Networking solutions, such as EVmatch, can provide this feature to your EV charger with just a few steps. This is a great solution for those who want to restrict the access of the charger to certain individuals. As previously mentioned, this feature is only available to smart EV chargers.
Pricing Schedules
Similar to access control, vacation home rental owners may wish to set up a pricing schedule for their EV charger. While they can certainly offer free charging to their guests, others may want to charge a fee. Within the networking system, owners can change the cost to charge depending on several factors such as time of day, hours of charging, and more. This is especially useful for those who have time-of-use rate schedules. With this feature, vacation home rental owners can produce revenue for the EV charger.
Data Reports
As aforementioned, some rebate programs require annual data reports. By collecting usage data, they can report if the EV charger rebate program was successful or not. In order to produce these reports, a smart charger and a networking solution is required. EVmatch, for example, can produce these reports very easily for you so that you can maintain program compliance.
You are finally ready to start charging your EV. Congratulations on your transition to electric!
Feel free to reach out to EVmatch should you have any questions or have any networking needs for your home or vacation rental home EV charger.
Copyright © 2023 EVmatch. All rights reserved